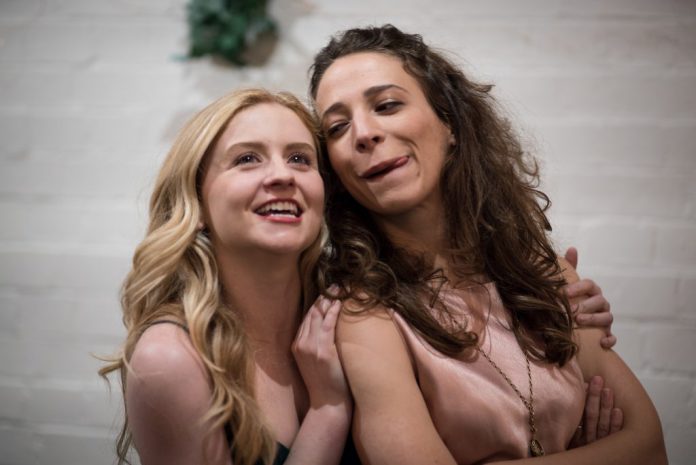 It has been many a moon since I have sauntered up a Darlo back street in search of entertainment, hence my heightened anticipation in search of a piece of theatre in a locale of which I was not familiar. The Muse Clinic I believe is a wellness salon by day and by night, for the next short while, is being transformed into the Forest of Arden – the imaginary location for Shakespeare's As You Like It, but still I imagine a source for the beauty products of Elizabeth Arden during trading hours.
Not only is the salon a new venue for theatre, this is the inaugural production for Shelley Casey's & Sylvia Keays's company devoted to all female casting. I applaud Ms Casey (director) and her producer Sylvia Keays in bringing to us this novel idea, why has no-one ever thought of it before? – well, outside drama schools at least. They are indeed beginning small in scale as the Muse Clinic is very much a pop up theatre. This adds much to the production. The lighting is set as we enter and never changes, the long white wall our constant backdrop, simply decorated in fairy lights, pegged out poetry and bits of foliage, the performance area itself a long narrow space with a timber floor. This is Shakespeare literally and artistically "in ya face", not so removed from how 16th century travelling players would have set up shop and delivered their play.
As You Like It has been cast with 12 very gifted comedic women actors. The energy and character changes are in constant movement keeping our attention in this reduced version which runs for a comfortable two hours. Some of the more profound elements of the dialogue could have been given more breathing space, however the storytelling is very clear and is punctuated with delicious songs and physical clowning.This is a strong ensemble of performers.
What is most rewarding for a spectator like myself who sees a lot of theatre is to find actors taking on roles they have been denied in the past merely because of their sex. And this is what the new theatre company is all about. I note Casey has directed the play before in The UK and no doubt the seeds for this all female concept were planted back then. The casting approach is not a gimmick but an important innovative step challenging the Australian theatre scene to create more roles for women and trusting the intelligence of an audience.. There's a whole lot of female talent out there we simply do not get to see that often.
Audiences will accept anything if executed well. To paraphrase Peter Brook you only need to give the artist an empty space and intention and voila!! – there is theatre. Let us not forget that plays were performed by all male casts for generations and audiences were not alienated. This fine show clearly assists us when the actresses are playing men or women so there is no confusion occurring- this is what actors do. Moreover, As You Like It is a very appropriate debut choice as it is steeped in role reversal, cross-dressing and sexual fluidity and gender politics. How successfully She Shakespeare tackles other plays of Will's I long to see.
Be a part of theatre history and get along to this production. Until Nov 4 only.
Mark Nagle – Theatre Now
---
24 Oct – 4 Nov 2017
Tue – Sat 7pm
Venue: Muse Clinic 155 Little Oxford St, Darlinghurst
Theatre Company: SheShakespeare
Duration: n/a
---
SheShakespeare is delighted to produce its debut production of
As You Like It
by William Shakespeare
Directed by Shelley Casey
& produced by Sylvia Keays
With Amy Hack, Courtney Bell, Charlotte Tilelli, Cassady Maddox, Kelly Robinson, Sonya Kerr, Lauren Dillon, Shelly Cameron, Emma Louise, Lana Kershaw, Rebecca Day & Prudence Holloway
October 24 – November 4, 2017
Preview 24 October
Opening Night 25 October
Ladies Only Night 31 October
MUSE Clinic
155 Little Oxford St, Darlinghurst NSW 2010
Tue to Sat 7pm
Tix: $38/$32/ Preview $20/ Ladies Only Night Groups (6+) $28
---
Ticket Prices
Tue to Sat 7pm
Tix: $38/$32/ Preview $20/ Ladies Only Night
Groups (6+) $28